Clickbait – A Worrying Trend that Won't Go Away
"An out of work comedian tries to cuddle a cup. The reason why will make you cry". "A dad tries to fight a bottle of coke. You won't believe what happens next". "25 Fingernails that look like Silvio Berlusconi". Okay these page titles don't exist just yet, but you can believe that there is a website that would jump on those titles so quick it would make your eyeballs pop out.
Yes you've seen, it I've seen it; we've all seen the dreaded clickbait pop up all over your Facebook newsfeed. In what may be the most worrying exploitation by media companies to play upon the human need to fulfil intrigue, clickbait has emerged as one of the driving forces for click through rates on the internet. It's no secret that a majority of the internet community believes that clickbait is a growing tumour on the face of content outreach process but it doesn't really matter knowing any of that stuff. Whatever your stance on the subject of clickbait, you have to admit at one point or another that you have given in to temptation! It makes you feel dirty afterwards, like you just performed oral sex on a guy who told you his cock tasted like banoffee pie  (Don't look too much into that comparison I certainly didn't), but damn it if it doesn't work.
Amazingly enough some of the key users of the medium like Buzzfeed will, with a straight face, deny that they have ever used it! Quite amazingly they put this post explaining this just after they released these two.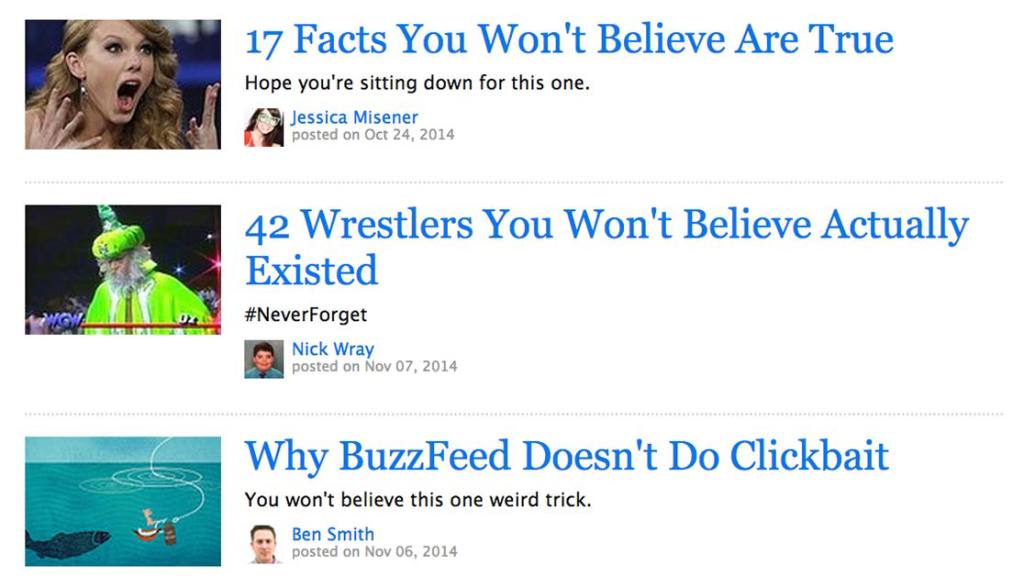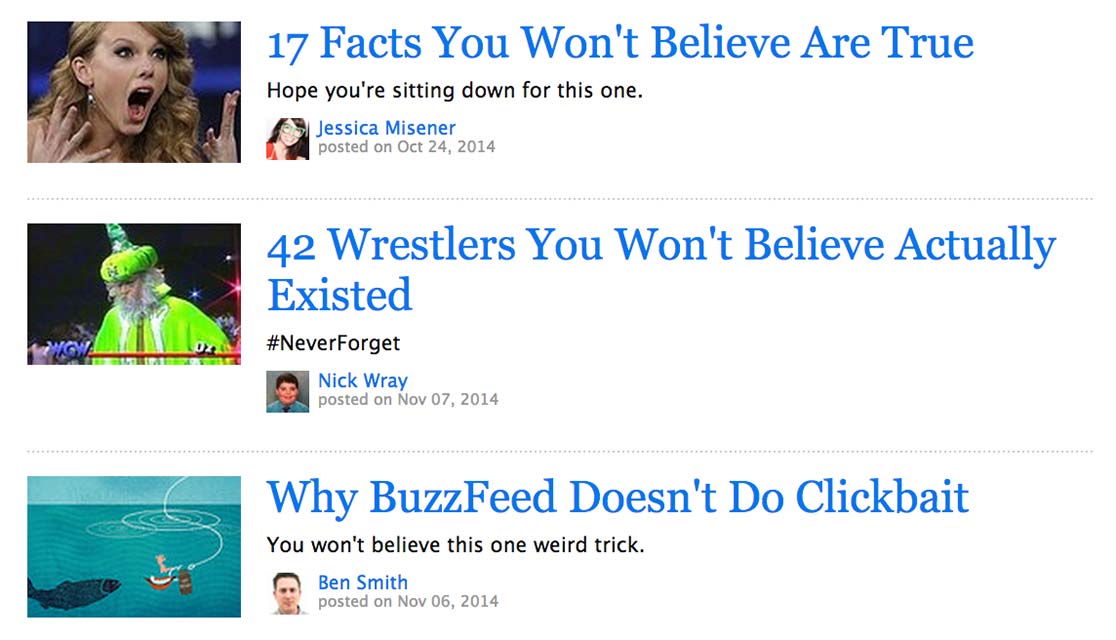 Outstanding stuff.
The main user of this in the games media has been undoubtedly Kotaku. Now we know that Kotaku is to game Journalism what UKIP is to reasonable politics but the two do have one other thing in common. They are exploiting the people of their human emotions and their doing it well. It is maybe the only thing that is keeping them afloat at the moment. For a long time, Kotaku has been viewed as one of the worst games journalist sites you can find on the web. As with this interview with a former Kotaku Editor Brian Crecente, They have been credited with having some of the least well written articles you can find on the medium of video games. And boy did they need an injection just to keep those page hits rolling in.  They, like a lot of sites, are now depending on this clever little psychological trick to draw in those cheap page hits and see better results.
So what can we do to stop this worrying trend? That's right! Absolutely nothing! We're slaves to the human impulses of needing to find information out. Short of us all all starting a diet of paint chips and Sarah Palin-ing ourselves out of existence, we may be stuck with it. We can always hope that some of the search engines intervene and try and stamp the menace out but there doesn't appear to be anything too extreme on the horizon. Back in August, Facebook did try and intervene and crack down on pages that are known for doing it, but it doesn't seem to have gotten rid of the problem. Like with all indexing internet based system, there is always going to be a workaround. We have not gotten to the point where we are able to weed out these articles in the news feed and so they shall be here for the foreseeable future. Games Journalism becomes a place where you must adapt to your environment to survive. On that note click here to find out which game console works best to bludgeon chickens. First you'll be shocked and then you'll be inspired!