First Impressions: Interstellar Marines
Not much to see now, but Zero Point's Interstellar Marines is certainly one to keep an eye on.
Interstellar Marines is the upcoming sci-fi FPS from Zero Point Software, currently available through Zero Point's website and Steam.
Years ago, I played a fully 3D, in-browser, multiplayer FPS called Interstellar Marines…. IN-BROWSER; this game ran straight off of Google Chrome! At the time, I thought that it was amazing to see such a great looking game running straight from a website. You've all no-doubt played flash games on websites before, and 3D is nothing that unique; Runescape was 3D rendered and is twelve years old!
From Java (2001)….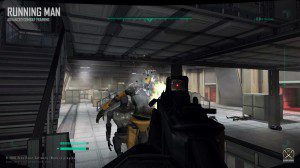 ,,, to Unity (2012)
I know it's not surprising that technology has moved forwards within the last decade, but the level of detail within this game is stunning. This game looks even better when running through the actual application (although it is in dire need of optimisation, but then alpha is alpha). Check out Zero Point's Unity prototypes here to get a feel for just how deep and fantastic this engine is!
What you get for £11.99 from Steam (or $14.99 from their site) right now is….. not much. The game is basically a sandbox to show off the engine and its features, and a simple TDM which is used to stress test the game. The multiplayer has no persistence to it; servers don't even record team wins/losses, team kills aren't recorded either so 'matches' have a tendency to descend into a 'shoot anything that moves' situation, and there is only one gun currently in the game.
It does, however, give you a chance to get a feel for the immersion of the game. Whilst there isn't that much in terms of gameplay to Interstellar Marines right now; the playable maps are pretty damn cool…. there just isn't much to do in them.
An interesting mechanic inside IM however, is that the maps are subject to dynamic environment changes, For instance…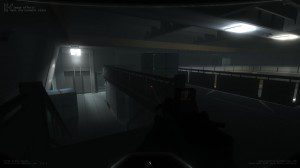 …. the hallway you're in can go from nicely lit (but still rather dark…)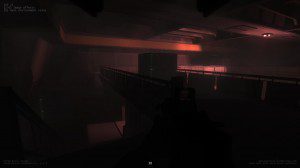 …. to emergency lights…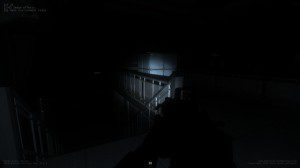 …, to "GAME OVER, MAN; GAME OVER!!" 
This 'mixing up' of environments makes for a pretty awesome experience already, even in an empty map! When inside a multiplayer match, these sudden switches are something that really kept me playing, as it completely changes how you, and your opponents, approach playing the game. You can no longer go screaming around a corner, as you're running around in the pitch black, and when you use your flashlight, whilst helping you to see where you're going, it does utterly give your position away.
I do highly recommend that those interested in sci-fi FPS's pay attention to, and pay up for, this game. For the sum of £11.99 you can watch a game as it develops from early alpha all the way up to release, and this is the price you pay for the full game; once you've paid your £12 – that's it. It's the same pricing strategy used to great success in the past by Minecraft, and other titles such as Endless Space and ARMA 3. Like these three, Interstellar Marines has a strong and well-supported online community even though the game is still in alpha. Zero Point also regularly put out videos, screens and concepts, articles, and community events to help reinforce their commitment to those that have made the game possible.
Zero Point have come to name this strategy 'AAA Indie', which means that IM will have everything that you've come to expect from a AAA title (luscious graphics and gameplay, single-player story, and a deep multiplayer), but with absolutely no publisher support. Zero Point are publishing this massive project themselves; that alone is worth £11.99, just for the shear bravery.
Also, 'AAA Indie' has the customer directly in mind, in a two-way relationship with the developer, cutting out the publisher 'middleman'. The community gets a say in the development of the game. 'Community meetings', where different members of Zero Point's staff and some lucky members of the online community literally sit down and have a chat about the development of the game, have been going on on a roughly fortnightly basis, and the Twitter feed from both the Zero Point account and staff is constantly ticking over, answering and acknowledging questions, and responding to messages.
Interstellar Marines is certainly a game that I will be watching for many months to come. With no release date confirmed ('when it's done, it's done'), for a game that will no doubt be released at an RRP of around £30, and with the nigh-constant correspondence to, and updating of, the community, this game is totally worth the £12 that it costs now for early access on Steam. Whilst there isn't much to the actual game itself, this really feels like the tantalising tip of the iceberg, with shed loads of exciting content just below the waterline. I also highly recommend that everyone checks out the Interstellar Marines website, if not to buy the game; then at least to join the community, and play the awesome in-engine prototypes and fully rendered, utterly addictive, mini-games.
Looking forward to enlisting with the Marines, or are you already training up on Bullseye and Running Man? What's your opinion of 'AAA Indie'? How screwed is this guy? Tells us bellow! 
Greetings Comrade! Why not aid Voletic in it's path to world domination by liking us on facebook, you'll be notified of gamer news, trailers, giveaways, Voletic content – and have geeky discussion! Join us! http://www.facebook.com/pages/Voletic/208974835810360?fref=ts