Peter Molyneux's – The Trail
The Trail has just been released by Molineux & 22cans, I've spent a few hours with the game and here's my verdict!
The game itself is based on a traveller who lands in a new place with nothing but rags. He jumps off the boat to head over to a billboard where he's captured the eye of a woman with a red umbrella. The helpful young lady wants to be my guide, lucky me! She's very knowledgeable, teaches me how to walk about and pan around my environment. Thank goodness for that, I can imagine I'd have been totally lost! As we start walking about I'm led up to the crest of a hill where I get a good view of the games graphics. The graphics look smooth, bright and well let's face facts, gorgeous. Not bad at all I'm thinking to myself, I know that mobile gaming is becoming a relatively big thing these days and the platform has come on leaps and bounds so I'm instantly sucked in.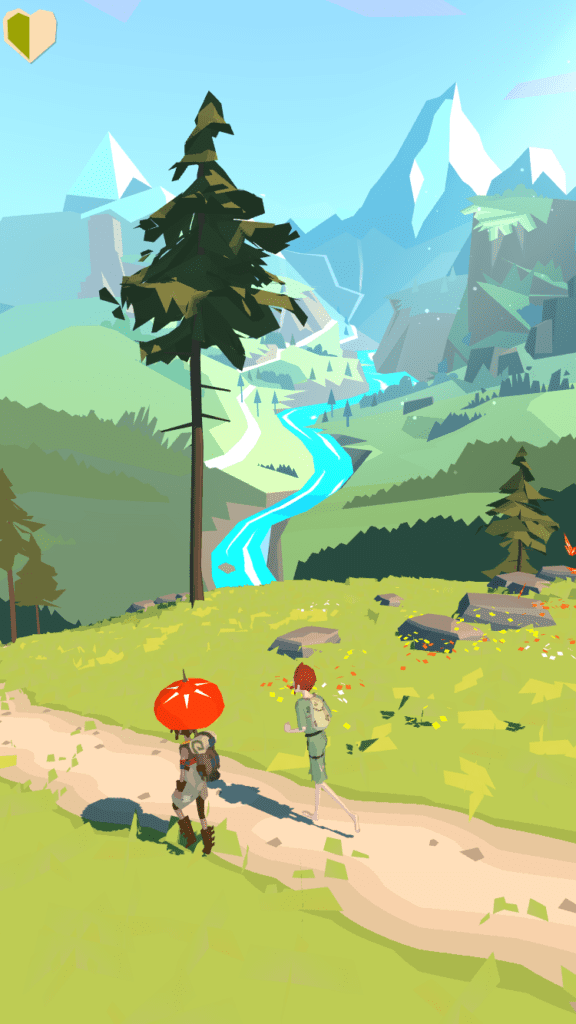 As I continue down my path I'm warned if I run too fast and don't pace myself, then my heart (see picture top left) will run out and I'll die. This is why we need to find ourselves a campsite to rest. Sure enough one is just on the horizon as my guide points out to all the campfire smoke.
This is where we meet our second character, 'Beatrice'. Beatrice helps us realise that the things we pick up along our way can be crafted into such items of use, such as shoes, to help us run faster. She has a bird that tags along with me to assist in picking up 'Quest' Items. Along my way to the second campsite I'm gathering all I can and I realise things are falling out of my bag. Now my faithful guide advises me that trying to keep all the things in my bag, is just part of the fun. I beg to differ my little cherub, it's actually rather frustrating. As the game goes on were trying to collect more and more specific items for crafting and they are just falling out of a rucksack that isn't fit for purpose. Luckily, we can upgrade the size of this later using 'Favours'. This for me, is where the game starts to fall apart.
Like most games on the mobile platform, it uses micro-transactions. If you wish to progress sooner, not wait for items to craft and even buy new and more helpful things, then we must start putting our hand in our pocket. Now, for a game that costs nothing, some people may find this acceptable. But for myself, I cannot warrant it on a game that looks nice and pretty, but is rather tedious and monotonous.
At each campsite we meet new travellers, it's around this campfire that we start trading. We throw our items, that we don't want or need, into what can only be described as a grinder, the other characters can either pick them up and pay a price, or it gets grinded up and we get a small amount of money from the grinder, bonkers idea, but it does sort of work, freeing up the rucksack so I can collect more sticks, logs and shells.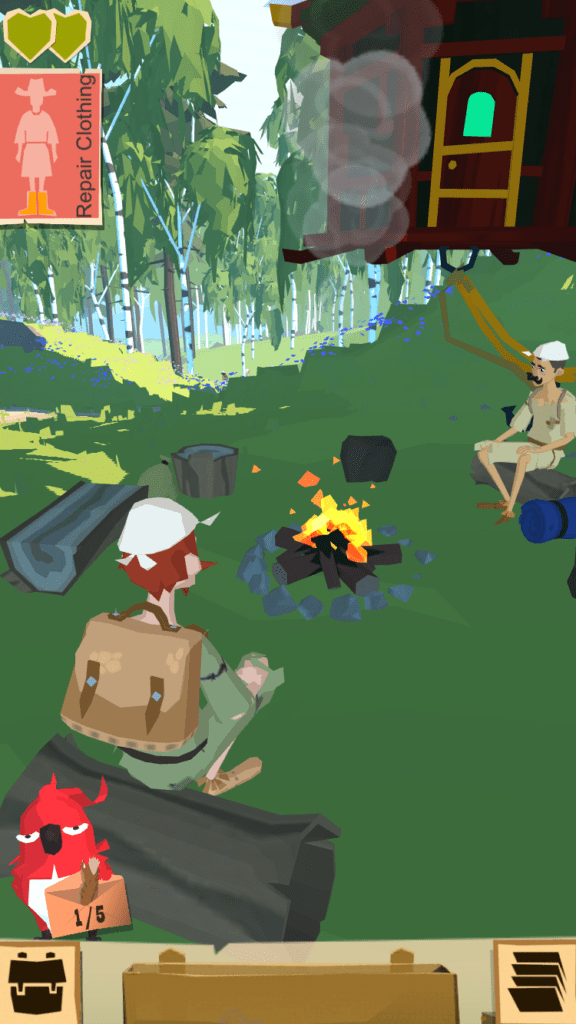 As the game progresses we start crafting more useful items such as a slingshot to kill rabbits, as hunting is an essential part of the game to survive and items of clothing, which bring something new to the table. The items of clothing that we make will go through wear and tear. Luckily though, we can use those 'favours' to repair them. The tools we make to aid us in our daily travels also have a life expectancy and need to be crafted every so stops.
All in all the game is pretty, will appeal to all ages and does help to pass the time. If only for a short period. I can't see this being the sort of game that will stay on your phone for long, before you contemplate deleting it to take that extra selfie, as it does come in at a whopping 574mb on iPhone. If you're still behind with an iPhone 5/5s with 8GB, I don't see you warranting the space.
Give it a go if you have some time on your hands and a bit of free space, but be prepared, the graphics and landscape soon give way to carrying the game. Please leave your comments below.
Editors note – we decided not to do a traditional 'Review' as it is a free product, so we didn't feel it fair to give it a score, especially as mobile games and the prices involved are constantly changing. This is still our full opinion of the title.