RETROspective: Gremlins 2: The New Batch (Game Boy)
I've seen the first few levels of this game about a million times in my life. Forget Dark Souls, here is a game that really is harsh and unforgiving.
Released in 1990 to tie in with the movie, the Game Boy version of Gremlins 2, like many other games on the console, plays as a platforming side-scroller. Jump, kill, jump, boss, repeat.
In the movie Gizmo has had enough, he snaps and turns into a flaming arrow, bow wielding maniac/badass, inspired by everyone's favourite killing machine, John Rambo.  To start with, when you load up, Gizmo is more JK Rowling than Rambo, his weapon of choice is the mighty pencil.
I really don't need to tell you that the bulk of enemies to pencil to death are the titular Gremlins, pretty sure that's a given, however, there is at least some variety here. Like the film, there are several different kinds of G-Men that need taking down. There's the standard, the skateboarder.In addition there are disembodied heads that are hidden in the scenery to pop up and spit at you, and who can forget Greta. Greta is the sex change Gremlin who looks remarkably like Nicki Minaj and hurts Gizmo by shooting deadly kisses at him.  Add to these random bats, mice and spiders and there's plenty for Gizmo to get stuck in to.
Killing the enemies will take more than one hit with a pencil, the first hit will stun, allowing you to either stand your ground or retreat slightly before following up with the killer blow.  Standing your ground can lead to cheap retaliation and the loss of some health. Picking up other items can make the battle easier, there is a one shot musical note that will insta-kill, along with a box that is basically a temporary invincibility against the enemies.  Be warned though, always pick these up after you have collected the pencil.  Get these first and you must use them, as running over the pencil whilst holding these does nothing, it just sits there teasing you.
Platforming wise you are tasked with pixel perfect perfection, slightly mistime a jump and it can either cost you some health, if you hit a spikey trap, or it can spell doom. Whilst frustration can sometimes rear its ugly head, failing is usually just the players fault and not the games. That being said, there are some really unfair sections that require blind leaps of faith as well as forcing you to be hurt in order to continue. Get to these bits without enough health and its game over.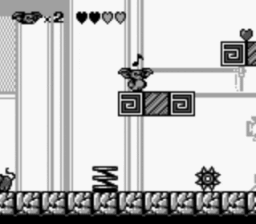 If you manage to traverse the various traps, pitfalls and enemies in a stage you are gloriously rewarded with an end of level boss fight.  Each boss taking the form of one of the movies mutated baddies with the second level's bat version being a particular pain to beat. Should you fail on a boss fight you mercifully get to start the battle again, minus one life. Fail in the level leading up to the fight and you have to start the level from scratch, there are no mid-level checkpoints. At least in Dark Souls after being killed you have the hope of retaining your dropped souls. The only hope you have here is being better the next time.
Completing a level does give a nice sense of achievement, a self-satisfaction that is not always felt in the modern era. To top this off there is also an end level mini game that has Gizmo training and requires you to mash the buttons 100 times in 10 seconds, do this and the reward is an extremely valuable extra life.
Despite being accessible to everybody, the New Batch is clearly aimed towards kids.  These days kids games are easy, they come with the message that every one of us is a winner. That is not the case here. Gremlins, and a lot of games at the time teach us that life can be hard. We will fail. Repeatedly. It teaches us to fail, but also to dust ourselves off to try and try again, and again.
Or maybe I'm reading into it too much and in reality I just suck. I challenge anyone reading this to have a try and let me know how far you get in the comments.
To have any chance of finishing you really have to learn the levels in detail. Enemy placements, leaps of faith and the best order to use and save weapons are all things that need to be kept in mind. Learning these things gives hope, and for some people the game will just click allowing completion.  Although, any gaming Gods out there will feel short changed, becoming skilled at this game will see the ending viewed in less than 15 minutes.
There isn't much need to talk about how the game looks, it's on the original Game Boy and as you can see from the screen shots it looks like most other titles on the system and that's not really a bad thing, as 2D side scrolling platformers do tend to age remarkably well.  There is the occasional issue of slowdown but it's not that bad at all and I have to just say how much I love the music. I will never get bored of the tones, I may just have my rose tinted nostalgia specs on, but I love it.
I am not ashamed to admit that I have completely failed in my quest to finish this game, I have been playing it for over 20 years and still can't finish it, and even though it has the beating of me this is still one of my favourite movie adaptations of all time. The overall favourite being Spiderman 2 on PS2, I loved that so much. The Gremlins may have won the battle, they will not win the war.  No doubt I'll still be trying to beat this game when I'm being wheeled around in the old folks home, I won't stop trying until I win.