Street Fighter 2 Retrospective – Super Nintendo
Back in 1992 when Ben Sherman shirts and curtains where the 'in look', a game was released that would leave a lasting legacy on all those who played it. That game was Street Fighter 2 – The World Warrior.
A one on one fighting game that allows you to choose one of eight playable characters and requires you to defeat the remaining seven before you face four more boss characters.

The characters themselves are now legendary. You have a choice from: Ryu, a karate master from Japan. Ken, also a karate master and training partner of Ryu. E Honda, a Japanese sumo champion. Chun Li, a Chinese agent who's father was murdered by M Bison (the final boss). Zangief, a bear wrestler from Russia. Dhalsim, an Indian yoga master. Guile, an American marine. Blanka, a mutant from Brazil. Each character is different and has there own unique set of moves to master. The boss characters are unplayable in the original Street Fighter 2 and, after defeating the remaining seven original characters must be defeated to complete the game. You face Balrog, a heavyweight boxer from America. Next up is Vega, a Spanish ninja. Then you face Sagat, a Muay Thai master before facing the final boss, M Bison. A dictator with psychic fighting powers.

The fighting stages are as impressive as the characters. Each is bright and colourful with details that reflect the country you are fighting in, be it the backstreets of China or an industrial factory in Russia. There is enough background action to give a vibrant lively scenario without distracting from the main game play. The soundtrack is particularly good. Each stage blasts out a theme which has a feel of traditional music from the relevant country boosted in a hard rock style. The music is instantly recognisable and I believe is one of the best soundtracks in any game ever made.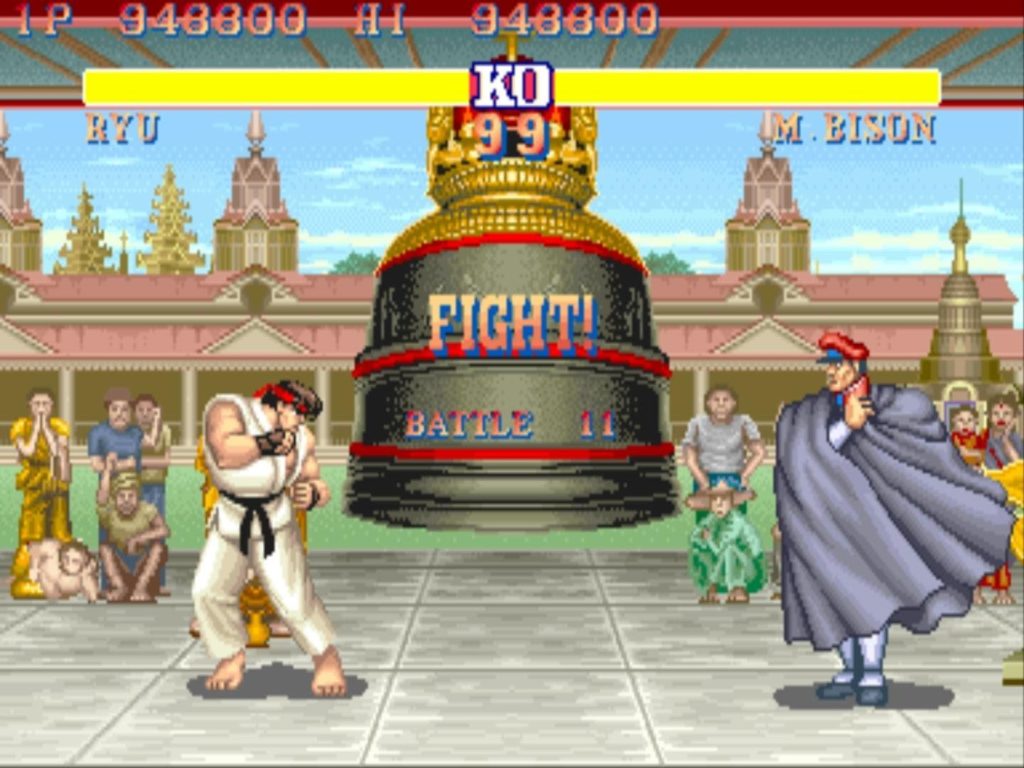 The graphics and sound are all well and good, but what really made Street Fighter 2 stand out was the gameplay. The fighting is slick and smooth and the controls are faultless. Each move can counter your opponents move. Although quick to pick up, it takes months to master. I remember 'Nintendo Magazine System' releasing a guide on each characters combination moves which I and many other players spent hours trying to master. It was during a day trip to a nearby seaside town where I first encountered the game. My Grandad had taken my brother and I to the arcade, something we used to do regularly as it was close to where we lived. Due to limited money, I would wander around watching the demo's running whilst 'insert coin' would flash furiously to entice you to come and have a go. It was whilst wandering about that one game caught my eye. It wasn't in a big fancy cabinet or stood out on its own like some of the more fancy arcade games of the time, like AfterBurner which allowed players to sit in a cockpit styled cabinet as though you were actually piloting the fighter jet and was always a central focal point in the majority of arcades all over the country. This game was neatly slotted into a line of other games. 'Street Fighter II – The World Warrior" was displayed on the screen and the speakers pumped out the now legendary soundtrack.
I loved fighting games and this looked like no other so had to have a go. I remember having a fifty pence piece, which was enough for two credits. As I put it in, the machine sprung to life, the music volume increased and I was greeted with the now famous character select screen. I frantically looked through the characters trying to decide which looked most dangerous in the hope I could get a fair way through the game. I vaguely remember choosing Blanka. He stood out, being the only mutant in the game and at the time I felt he would be the strongest. The match up screen appeared and I remember my first opponent was Ken. As soon as it announced "Round one… FIGHT!" I was blown away, the graphics and sound were on another level. Never before had I seen a fighting game with this level of detail! The characters were sharp and well animated, the background was full of action and the fluid gameplay was backed up by a pumping hard rock soundtrack. It is safe to say I was terrible at it, I barely got one hit in, let alone win a round! My fifty pence was soon gone and it was time to go home.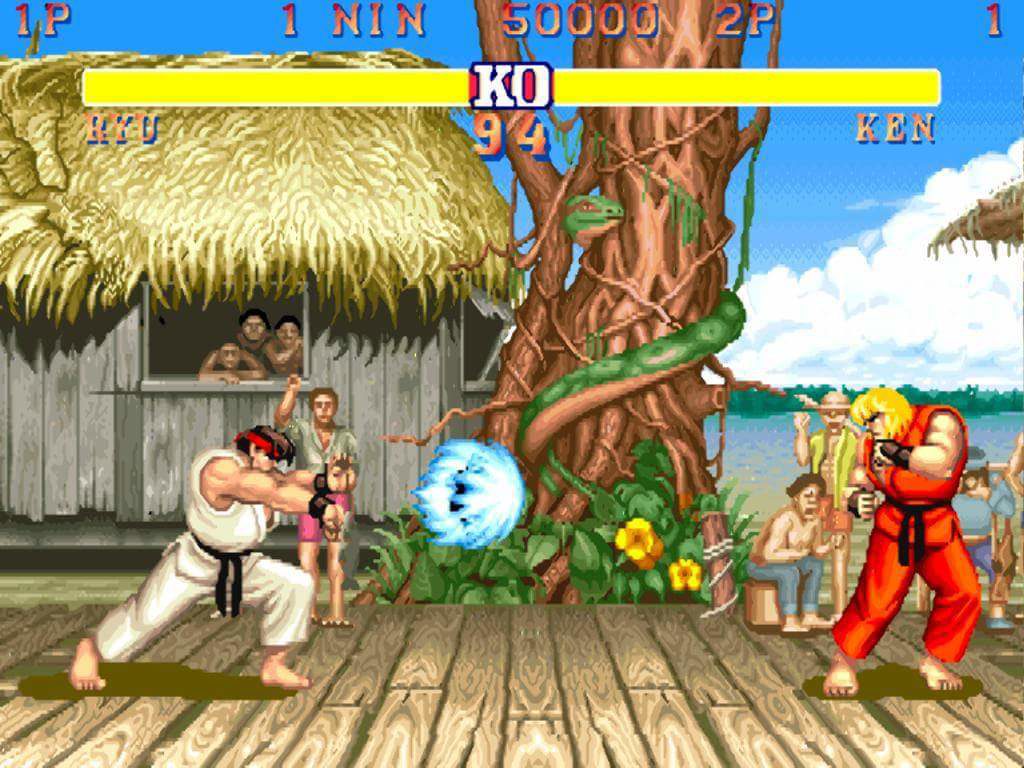 Around a year later I was in 'Power House' (a electronics retail store that sold the latest stereo equipment, televisions and games). The games were always running on the consoles behind glass screen to avoid people touching them. On one of the units I saw a Super Nintendo running Streetfighter 2. I was watching in amazement! The great game I had played the previous year was available to play on a home console! My brother owned a Megadrive and although he had lots of good games, we wanted a Super Nintendo with Street Fighter 2. We eventually got one that Christmas and Street Fighter 2 established itself as one of my favourite games of all time.

It was over 25 years ago the game was first released and I have continued to play it regularly over the years. It has stood the test of time better than most games. The various sequels and prequels have came and gone, each being a great game in itself, but for me the original is the best. Streetfighter 2,I feel, was the first game that brought the one on one fighting game genre to the mainstream. The Super Nintendo port selling over 6.3 million copies and later releases on other consoles were also huge hits. There have been many clones over the years and not one has come near the quality of Street Fighter 2. I will eagerly await the release of Ultra Street Fighter 2 on the Nintendo Switch to re-live the magic all over again.