Posted
October 19, 2016
in News
Lewis Hamilton is Inexplicably cast in Call of Duty: Infinite Warfare
In a move which sparks of desperation, Lewis Hamilton has been cast as a character in the upcoming Call of Duty. The game has already been met with hesitation from a large part of the fan base due to its space setting and departure from some of the series norms, but casting a Formula One driver as a character almost defies belief. Who asked for this? Lewis Hamilton is not a particularly popular sportsman, he's not well liked among racing fans or casual sporting viewers, and he's not cool in an ironic sort of way that many modern celebrities are. He's mostly seen as a sort of arrogant annoyance that people begrudgingly respect due to his talent on the track. What remains to be seen is what character he will play; the rumours are that it will be a pilot or engineer of some sort, which vaguely makes sense in a strange PR persons logic sort of way. I mean, at least they market it easier in the press release. There doesn't seem to be much of an attempt to separate the character from the celebrity, as he is wearing a cap much like he does in his own public image.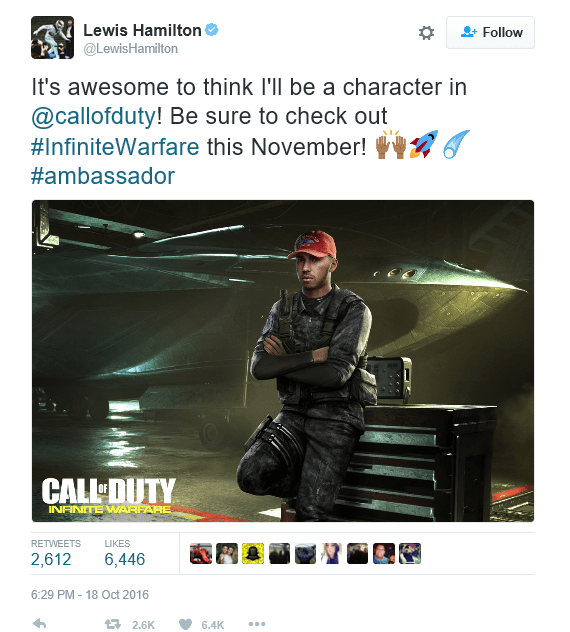 Personally, I can't see any motive in this decision. It surely cost them a pretty penny, and will have no benefits to Activision at all, it's not going to make people pick up the game, it's not going to appeal to fans, and because of how peculiar it is, it will probably subtract from the experience to have such a weird cameo character. That being said, we should give them the benefit of doubt. Perhaps he is an unrealised genius actor that will shine in this role? That remains to be seen.
Other celebrities starring in what is sure to be a tour de force in creative genius is UFC Champion Conor McGregor and 'You Know Nothing' Kit Harrington. It really is shaping up to be every gamers dream.