Posted
November 10, 2016
in Reviews
Summary rating from user's marks. You can set own marks for this article - just click on stars above and press "Accept".
Accept
Beholder Review – PC
The Beholder, set in a dark, authoritarian country, where rules set are beyond controversial and depressing. Ranging from not owning certain books, to keeping and wearing preowned clothes. The duty of enforcing these 'Laws' Falls down to Carl Steiner, he has just become thrust into a position by the ministry to run an apartment block. The previous Manager failed, he couldn't cope with the stress, we see him beaten and taken away.
The graphics of the game are very nice. Smooth, simple yet also detailed. You can pan around the house with the mouse or arrow keys. You can zoom in, enabling you to focus on areas of the house. Its overall a very pleasant experience once you get to grips with things. It boasts nice sound effects, sporting the earie and morbid tones with the pitter patter of rain on the roof.
We've just been injected with a trial drug that will supress our sleep, so we can spend more time monitoring our tenants. We're instantly led to believe that people think that their private life is theirs, however, it is not. Everything is our business. We have access to their homes, belongings and information. We're provided with a store to purchase our CCTV. They come in different size viewing angles, bigger the view, the more expensive. We can install these in any tenant's properties when they are out. Truly invasive.
The game instantly throws us into a tutorial, this is very much needed. It's initially a little complicated, so you need to read the instructions carefully, there is no skipping through the instructions as you will undoubtedly miss something. First-hand experience at this folks! I had to restart the game once.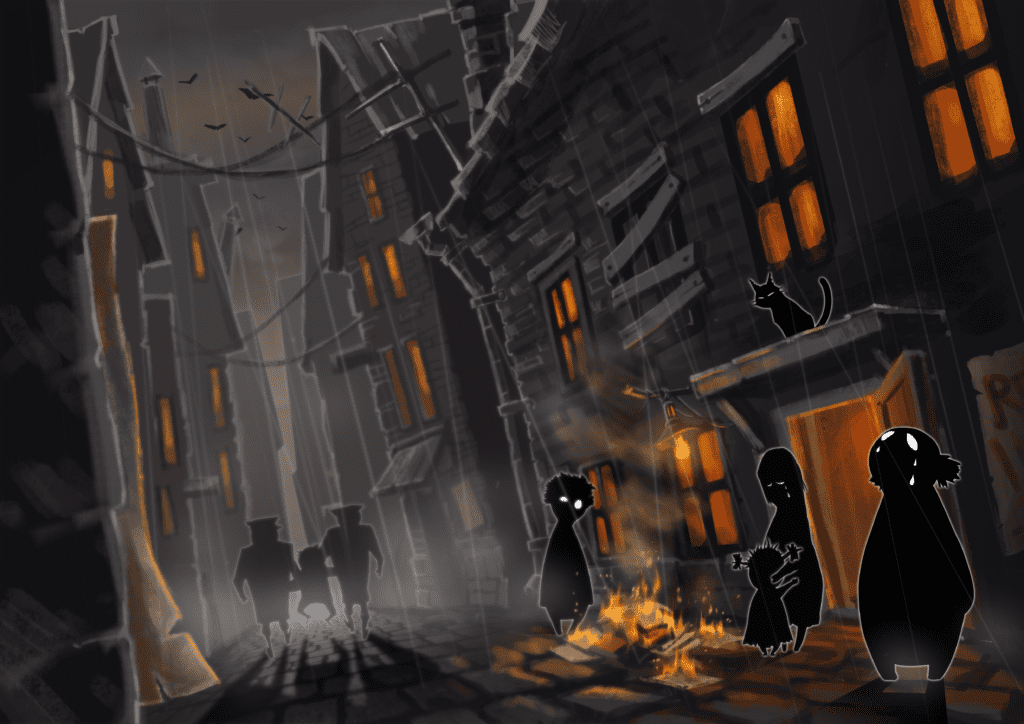 We have a chap from the ministry with us, he's talking to us about our duties, and how we work for the 'motherland' and should not set out to disappoint. The consequence, being relieved of our duties and essentially removed like the previous manager. We're quick to reassure him that we can handle the responsibility. Some basic rules are given to us. Document everything in our journal, literally make a note of everything. File reports of any illegal activities in the block, included who, how and when. Profile each of our tenants, so when we find out some information, make a character profile for the ministry. Finally, always pick up the phone when it rings in our office. If we don't, we incur a penalty.
The point of this game, successfully manage the apartment block, get paid and earn reputation. Everything that we do, in some way has an impact on what can happen in the game. Now we can use our finances, reputation and information about our tenants to get what we want. It's an interesting twist and can genuinely leave you in two minds about what to do. I tried to play the game doing as I was told and doing 'right' in the eyes of the law and my family. Let me reassure you, this is hard. To do that, you wind up skint, with no reputation and still screwing up. Our son, who's a smart boy, really wants to study, he's determined not to take a terrible job like us, working for the 'system'. Well, I couldn't make the right choices, he ends up getting canned from school and working down the mines. What a let-down we are!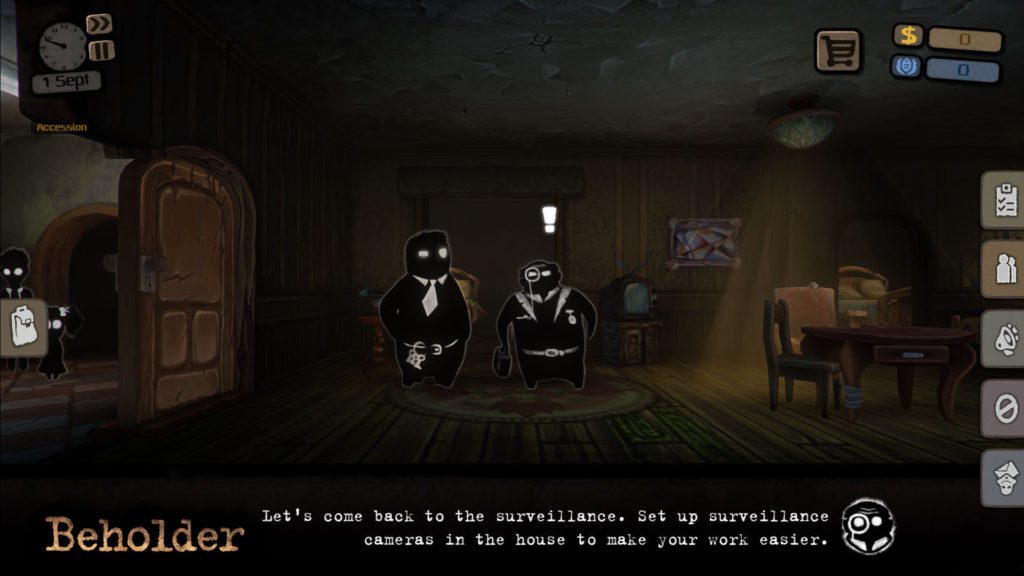 Still, this is a very clever, rather strategical game. If you pick and choose your actions carefully, I do believe you can be very successful at the game, that's the challenge.
A run through of the first mission: The ministry want us to collect information on the gentleman living in apt 2. Whilst he's out we go into his apartment, snoop through all his belongings, install CCTV and ask all the tenants about him. Evidently he's not the nicest of blokes but we do find some interesting information about him, which we file in a report to the ministry. They want him gone so ask us to catch him doing something illegal and file another report when we've caught him in the act. It isn't too long before that happens and we report him. The police then beat down his door and give him a hiding, before chucking him in the van.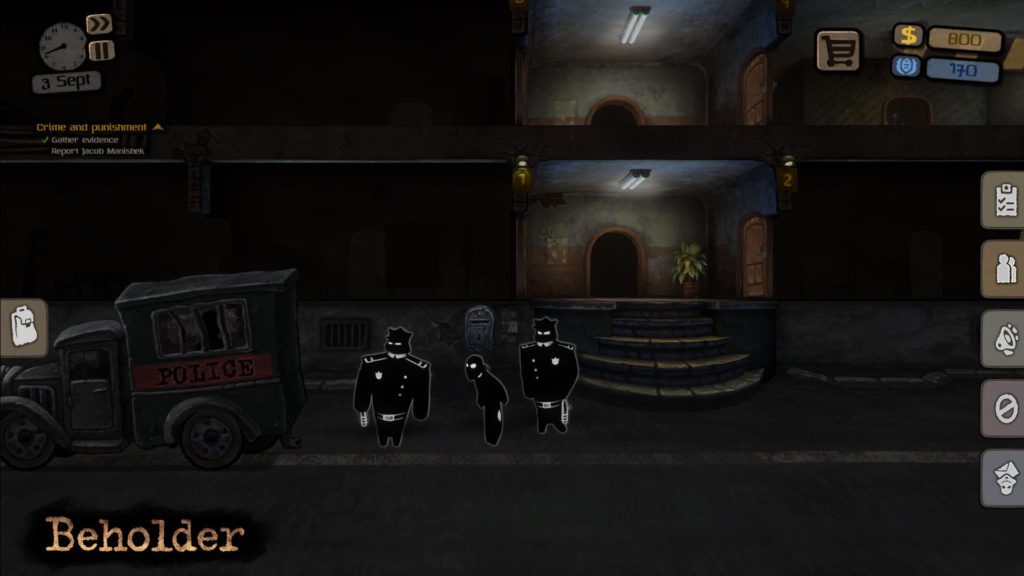 Beholder is a graphic game, it somewhat tugs on your heart strings a little. All your tenants are unhappy and depressed. It's clear this is a very strict, grim and run down place to be living. It doesn't take long for my daughter to become seriously unwell, with no medication available and a whopping $30,000 to make her better. This is where the game starts to come into its own. You've tried to be good all this time. But now maybe you need to start pulling some strings, doing something illegal and dangerous to start earning that sort of money. Or, do we let her die and tear our family apart.
On top of all this we have time frames to complete the ministries tasks, also the tasks set about by our tenants. At any one time you could have 5-6 different tasks running, all involving snooping, talking, planting evidence and filling numerous reports. It does get on top of you and you can see how the previous manager starts to fall apart. We need to get all the flats up to scratch, ensure all tenants are moved in and happy so that money starts coming in. Whilst doing this we have to deal with disasters that are happening in the real world, like riots and bombs.
The game is very clever, fast paced and will keep you in your toes. Endless decision making and paths you can choose is impressive and will have you gripped. It's the dark side to the game that, in a way as a player, gives you hope. You want to make it a better place, but as the game goes on you know this is impossible. You either, crack on, enforce the rules and become a slave to the system. The other options, be reckless and wild with your choices, better you and your family, be a crook. But be warned, don't get caught, the ministry won't like that.