Summary rating from user's marks. You can set own marks for this article - just click on stars above and press "Accept".
Accept
Blaster Master Zero Review – Switch
It is no secret that the selection of software on offer at the launch of the Nintendo Switch this month was in short supply. Was it any smaller amount than a typical console release? Not really, but after the faltering of the Wii U, people are looking to Nintendo to make another commercial misstep, jumping on every issue they can to make a drama. For some, a staggeringly well reviewed Zelda title, or the unofficial spiritual successor to F Zero aren't enough to make it through the first week of the Switch's release. Today we see the launch of the next selection of titles for the system on the eStore – among them is Blaster Master Zero.
Blaster Master Zero is not a prequel as the title might suggest; instead it is a modern re-imagining of the NES classic Blaster Master, updated to provide a nostalgic pick-up and play experience extremely familiar to those accustomed to the original.
In many ways, Blaster Master Zero looks like what I imagine a SNES remake of the original title would look like – Sunsoft have kept a far more ostensibly retro aesthetic to Zero, a welcome respite from the dorky but functional 2.5d of the WiiWare Blaster Master: Overdrive.
Many of the original level's areas are recreated here in exact layout, with extra secrets, save points, obstacles and stylistic changes added. Area 2 for example, was a castle environment in the 1991 (UK) release of Blaster Master, but has been reskinned to look like a futuristic botanical dome that would supposedly serve as residential quarters for the local denizens. This change is evidently due to an updated storyline that looks to position the bizarre story of the original in a slightly more grounded science fiction plot. Much like the original you play the part of Jason, who chases his pet frog (one of a kind, I hasten to add) through an inter-dimensional portal, and ends up stranded in the labrynthian underground  remains of some otherworldly civilisation. On the upside, he finds SOPHIA III, a powerful all terrain battle tank that he just so happens to know how to pilot. With his new found ally, he sets out to find Frank the frog.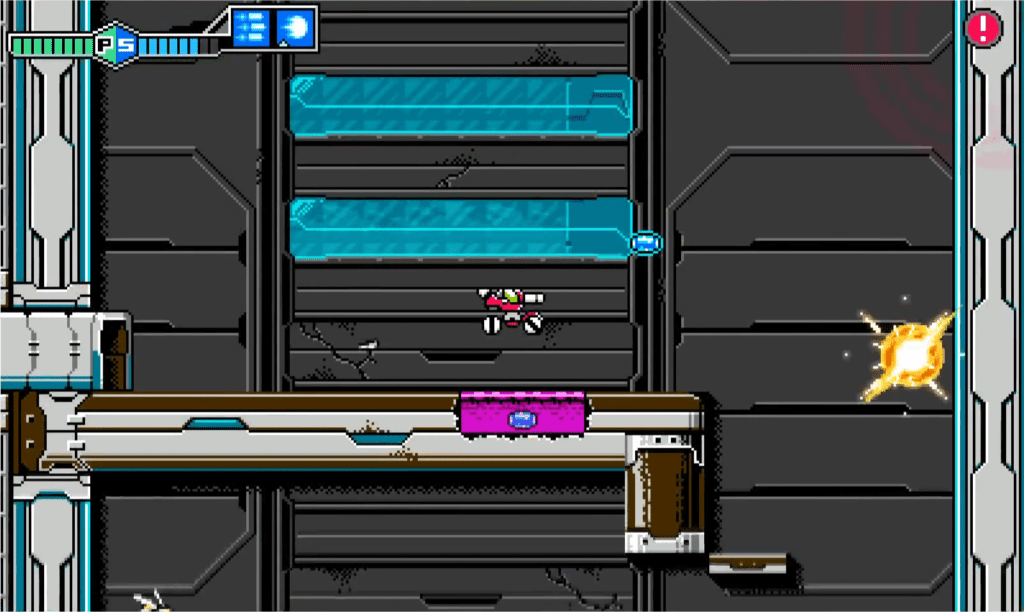 Gameplay is simple and intuitive, with two key modes. In the first you control the aforementioned tank in a 2D platforming format, in which you must navigate the areas within the game, dispatching enemies and moving past obstacles. The second is when you depart from the tank and go on foot, taking a top down pseudo-isometric shooter format. Over the course of your adventure, you will find both permanent power-ups that allow you to progress, akin to the gameplay of the 'metroidvania' sub-genre, as well as temporary power-ups to your offensive capabilities. These weapon power-ups are downgraded every time you take damage, which means the rewarding feeling of navigating a particularly tricky segment perfectly is amplified. So far, so Blaster Master. In order to spice things up, new obstacles such as conveyor belts and timed gates that need to be activated have been added to the original levels. This helps to provide something fresh for returning fans of the series.
The visual overhaul has not lessened the games simplistic and retro sensibilities. The iconic vehicle and musical cues are still here. Story line and user interface have been fleshed out in a way that enriches the original, with text based dialogue and some supporting characters helping the former, whilst an inventory system improves the latter. This isn't quite the retro soul searching of the latest Megman games though. Instead of emulating the NES software restriction with finer polish, the whole affair feels spruced up with sprites and colours the old Nintendo hardware wouldn't have been able to push. As I said previously, this overhaul is more in line with SNES system capabilities if anything.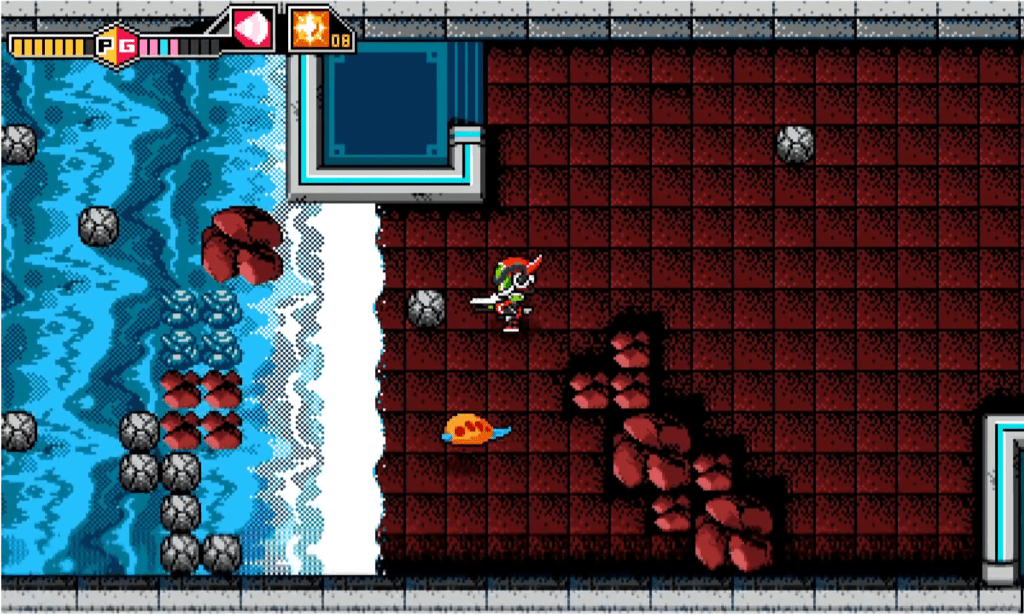 Overall level of difficulty isn't quite that of the original NES title, with saving checkpoints and an objective sensor making the experience far friendlier than your traditional retro title. I feel that these modern conveniences serve to improve the experience, and help it as a "pick up and play" title that could shine on a hybrid system like the Switch. The additional co-op mode further reduces the difficult level to a cake-walk. Ultimately, the multiplayer is a disappointing affair, with the second player simply joining as a floating incorporeal cross-hair capable of firing lasers at enemies and dropping health packs and special ammo on occasion. The lack of a real multiplayer mode is a real shame considering the Switch comes ready with two pads.
Blaster Master Zero as a modern game feels aged – its simplicity is simultaneously charming yet un-inspiring. It all provides a short, retro-inspired romp that will resonate with those familiar with the original premise and other similar titles from that era of gaming. For those of us like myself who are not clouded by nostalgia due to playing the original years later on an emulator, Blaster Master Zero doesn't offer enough to warrant its existence. This really isn't the retro-revival pick-me-up of a game like Shovel Knight; and although highly playable, Blaster Master Zero offers nothing new or unique. At £8.99 it provides a cheap enough title to pick up and play on the move, and to fill time between more accomplished Switch exclusives, but it ultimately it isn't going to blow your mind.
5/10