Posted
November 11, 2016
in Reviews
Summary rating from
9
user's marks. You can set own marks for this article - just click on stars above and press "Accept".
Accept
Farming Simulator 17 Review – Xbox One
Farming Simulator 17 marks this year's instalment in Giants Software's annual agricultural showcase. For those of you that don't know, Farming Simulator places you in the shoes of a farm owner in Goldcrest valley; you are to manage a farm, whilst taking part directly in the day to day tasks and chores. Drive tractors, sell goods, breed livestock and even chop down a couple of trees – the day to day life of a farmer has never been rendered in so much detail, and with such little charm.
Writing that introduction to this review was weird. "For those of you that don't know" probably doesn't belong in the body of a piece being written about Farming Simulator games. If you are reading this then you are either steeped in video game culture enough to understand it exists as an entity; an enigma on the fringes of popular gaming's consciousness, or alternatively you are interested in Farming Simulator as a series, and are anxious to understand where the current iteration sits in terms of quality.
Farming Simulator's audience is made up of two groups. One group is here to engage with a series they are already invested in. They will enjoy the upgrades and additions to the formula for the most part when compared to last year's version because they enjoy the rather laid back gameplay of a farming sim. The second group, is a combination of YouTubers trying to make funny videos of the latest gaming oddity. Although I don't really fall into either of those camps I may well fit the latter category more directly, not only because I will sometimes curiously watch a short "Let's play" of a bizarre franchise like Farming Simulator, but also because I once aspired to make that kind of content. That is less of a shameless plug, and more a self-referential admission that we all make mistakes.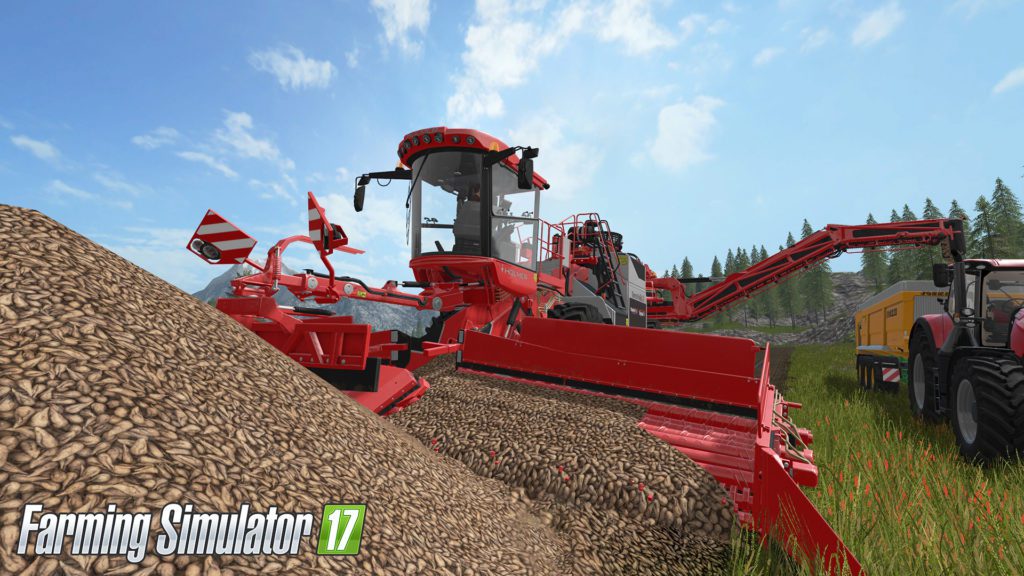 Farming Simulator 2017 does little to entice an audience outside of this already established player base. The game is unapologetically ugly, and still suffers from the drab sense of cheapness that has plagued the series, and indeed the entire genre since the dawn of the flight simulator. From animation to physics engine, everything is clunky and awkward and feels like an early generation Xbox 360 title. The UI is cluttered, and the controls are so unintuitive that there are multiple contextual control menus on screen at all times; an unfortunate by-product of trying to move something as inherently complicated a simulation game to console.
I dictated to myself that I had to spend a good couple of hours with the game as a minimum before writing up any impressions. I wanted to absorb the minor details and look past my surface level perception of the game, which is difficult when it has a face and UI only a mother could love.
After all, I found Eurotruck Simulator surprisingly relaxing and compelling when given enough time to sink into it. However, I felt no such feelings when it came Farming Simulator 2017. Everything feels hastily slapped together, with no love or affection. Vehicles feel inconsequential when you drive them; their interaction with the environment feels lacking in weight with the Pick-up zipping around like a cartoon rocket, whilst Tractors feel sluggish yet lacking in weight or substance. Farm workers seemingly teleport in and out of their assigned vehicles, and feel like little more than 3D representation of pre-programmed macros, whilst live-stock look about as animated as the earliest 3D NPCs of the Playstation era – their repetitive sound bites just as frustrating, un-engaging and repetitive.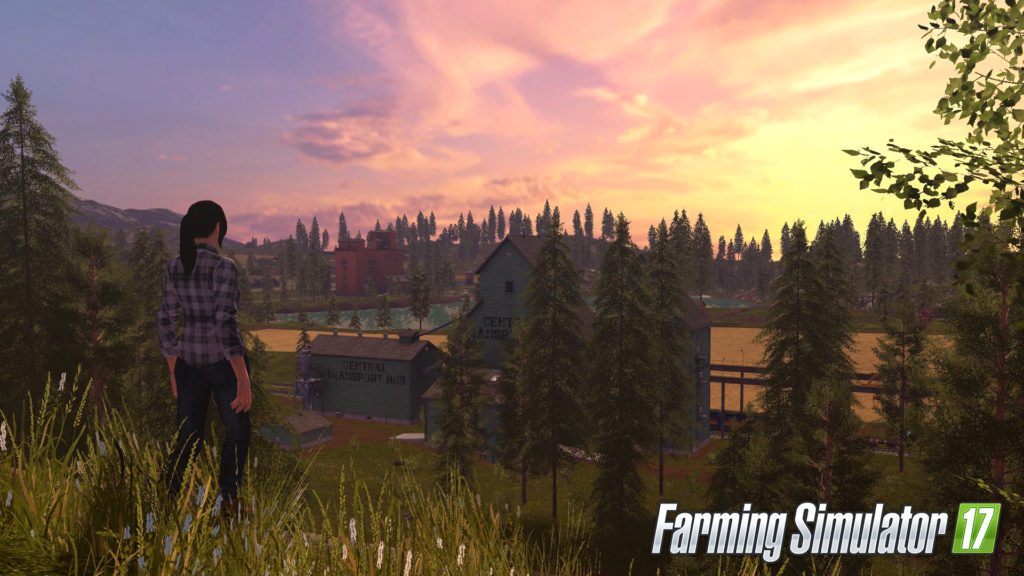 The whole front end experience is charmless and dull. And don't get me started on the damned radio stations and their music. My wife actually asked me to play with headphones because it was so generically awful. On the up-side there are several stations to choose from; rock, country, techno. Unfortunately they are all just shit.
Beyond this, I played through the rather limited tutorial and began to harvest grain and move it to the local sales depots. Here, I was met with a bug where I couldn't unload my product into the silo. Having to Google a gameplay video to understand if I was doing something wrong, or if the game had broken was not the best first impression. One reset later, and I am finally selling my grain for a profit. I purchase some cows, chop down some trees and begin to try and understand the micro-economy within the game, and my objective.
The over-arching objective of the game appears to be repaying your mortgage on the farm through good business practice, favours for other farmers and savvy sales of your produce. I gleaned this information from the achievement list and a forum post, more so than any in game indication. The lack of direction is frustrating.
I have always assumed that the appeal or draw of a franchise like Farming Simulator was to have a relaxing play experience, but to actually achieve anything I felt like I had to begin micromanaging workers, movement of grain (which didn't appear to be able to be automated) and playing the agricultural 'stock market' with observations of pricing fluctuations between buyers.
Ultimately I grew tired of the repetitive task of sow, reap, move and sell. The whole experience was frustrating, cyclical and unexciting.
Why the developers don't spend some time and resources in making the series more enticing or accessible is absolutely beyond me. I found myself driven to boredom, unwilling to invest anymore time into seeing if there were anything more rewarding beneath the murky, last-gen experience that appears upon the surface. The appeal of the series to its core fan base eludes me, but each to their own. In terms of a recommendation, unless you are already invested or find repetitive agriculturally themed-tasks with no charm enticing, stay well away from this steaming pile of boredom.
Editors Note: The Screenshots are taken from the press kit and look much better than anything found in game. Be sure to like Voletic on Facebook and Follow us on Twitter if you like our content, and comment if you have any thoughts.