Summary rating from
1
user's marks. You can set own marks for this article - just click on stars above and press "Accept".
Accept
Hellphobia Review – PC
Take yourself back to 1993 and you might remember a certain little indie game called 'DOOM'. Fast-forward twenty four years and you might come across another game by the name of 'DOOM', however you also might find yourself a new little hellish nightmare adventure that goes by the name of 'Hellphobia'.
Now first off, this reviewer isn't comparing Hellphobia to DOOM for its pioneering and revolutionary game play, instead it seemed fair to draw the conclusion that this new title pays homage to DOOM simply for its chilling and very unnerving atmosphere.
Setting the scene, the player finds themselves dropped right into the thick of it when the level starts in a dark and gloomy maze, populated by creepy floating apparitions and thick levels of mist that will confuse the player and point them into dead ends and danger.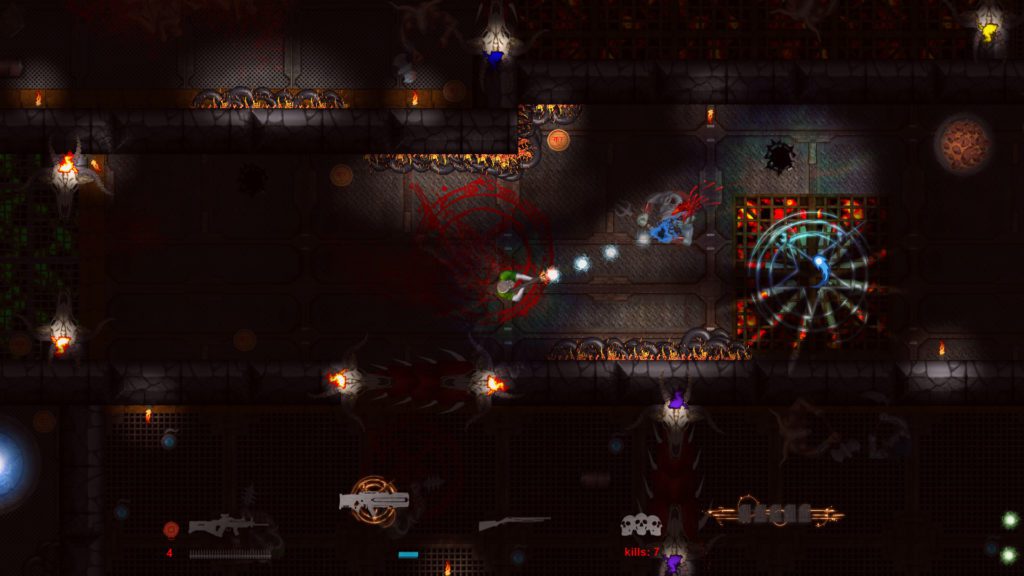 The top-down perspective may seem dated by today's standards, but for Hellphobia it works in it's favour. The game reeks heavily of classics such as Alien Breed, but in this title the challenge is less about enemies and more about navigating the labyrinthine levels with only your mediocre machine gun and sliver of flashlight to guide your way. The game gives player the options of adjusting the lighting settings if you're like me and have trouble navigating the dark, however due to the stylistic nature of the game, the darkness doesn't prove a huge hindrance and the sparse amount of enemies mean that you'll more often than not find yourself running against dead end walls than being killed by terrifying creatures of the night.
Of course this isn't to say that wandering monsters are the only things you face. Harking back to the days of the Mega Drive and Super Nintendo, Hellphobia unleashes various projectiles that fly across corridors on endless loops, forcing you to time your movements carefully in order to not be incinerated. The scenery depicts leering demons and creepy skulls for your enjoyment and these really do add to the atmosphere when you think you're on the right track only to come to a dead end with a large fire-spewing devil grinning at you from the darkness.
It's fair to say that, while the game itself requires only simple control inputs, the game feels more suited to a controller than a keyboard and mouse. The main title screens even depict the familiar green A button of an Xbox 360 controller, however the game is entirely playable with just about any input device you can lay your hands on. The directions are straightforward and the player only needs to fire the gun and aim the light on said-gun so don't expect anything too taxing.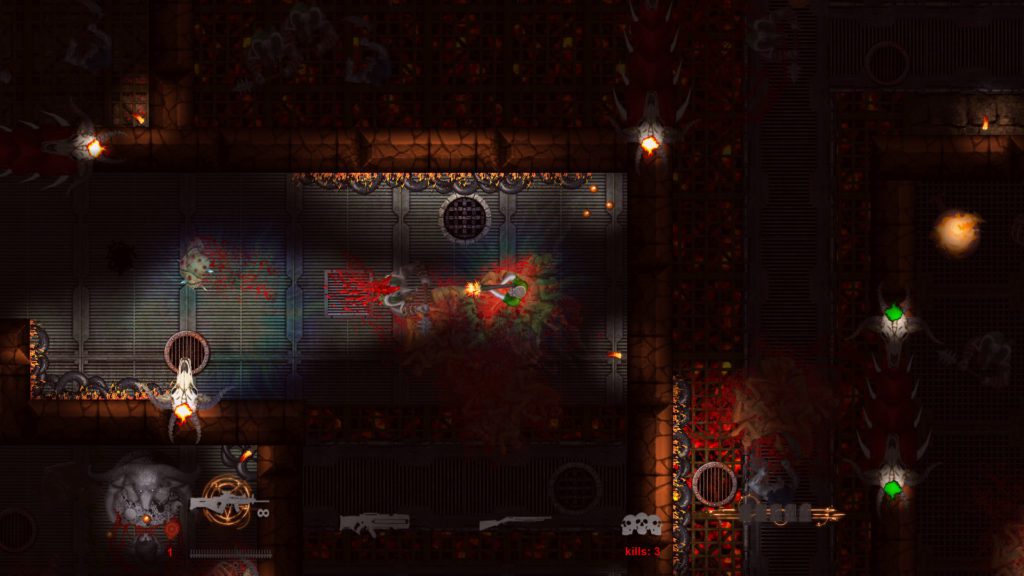 Its games like Hellphobia that, while simplistic, remind you just how effective atmosphere can be in a game today. While some may argue that Hellphobia should have been a first-person perspective horror, that would imply that the game was about claustrophobic fear rather than the challenge of navigating an unfamiliar space which being hindered by environmental effects and challenges. Perhaps it would be better to be compared to the original Resident Evil games on the Playstation – were they really about just killing zombies? Or….were they about solving a mystery and escaping a creepy confusing mansion?
In addition to the atmospheric effects and darkness, the use of sound is particularly effective in Hellphobia. From the first title screen to the blood curdling cry of your last life, the use of deep bass, chilling laughter and action cues mean that the tension is fresh on each playthrough and your ears are constantly getting bombarded by audio cues as you try to achieve your goal.
However despite its chilling visage, the game still has several areas that need improvement. The controls, for example, while basic don't have the manoeuvrability that one would expect from a game of today. Whilst dodging flaming projectiles in a tight corridor, this reviewer's way was often barred by tiny bits of scenery that jutted out and impeded progress, yet the directional controls often left the character stuck and attempts to move them proved unpredictable, usually sending him into the path of another flaming ball of death.
Now maybe it's because this reviewer has played it on a PC with a keyboard and mouse, but it would be strongly advisable to give this game a try with a modern controller of your choosing. There's just so much more freedom to navigate levels with a nice 360 degree analogue stick!
Pick up this game for a fun creepy experience, but be warned that the levels can grow more tiresome than challenging as you reach the umpteenth dead end and hear your character grunt his final breath for the millionth time!
Overall 6/10