Summary rating from user's marks. You can set own marks for this article - just click on stars above and press "Accept".
Accept
Kill The Bad Guy Review – Xbox One
I am a great believer in redemption; that the majority of cases deserve a second chance. However, some crimes are so heinous that it is difficult to argue a chance for forgiveness. And no, I am not talking about the question of whether or not the release of a 2 and a half year old PC game warrants a second look on Xbox One. Kill the Bad Guy presents us with a dystopian alternate reality where the majority of truly morally reprehensible individuals appear to get away with their crimes. They go into hiding and avoid the repercussions of their murderous pasts and war crimes. However, an unnamed and highly secretive organisation has employed you to give these men (and strangely, only men) their just-deserts.
Kill the Bad Guy has a solidly simple premise; in each level you must 'kill the bad guy'. A briefing screen explains to us what horrid crimes were committed by the criminal in question, and what secondary objectives are available to help us boost our score. The bad guy will follow a set route every day, which you can observe from an isometric perspective to figure out how best to dispatch the offender in question. Aside from a cursor, you have no physical presence within the game world. Instead, you interact with various items to set up traps that will kill the bad guy in a way that looks like an accident. This might be anything from sabotaging a car to run over our victim, to creating impromptu catapults out of a tree to crush our target beneath a grand piano.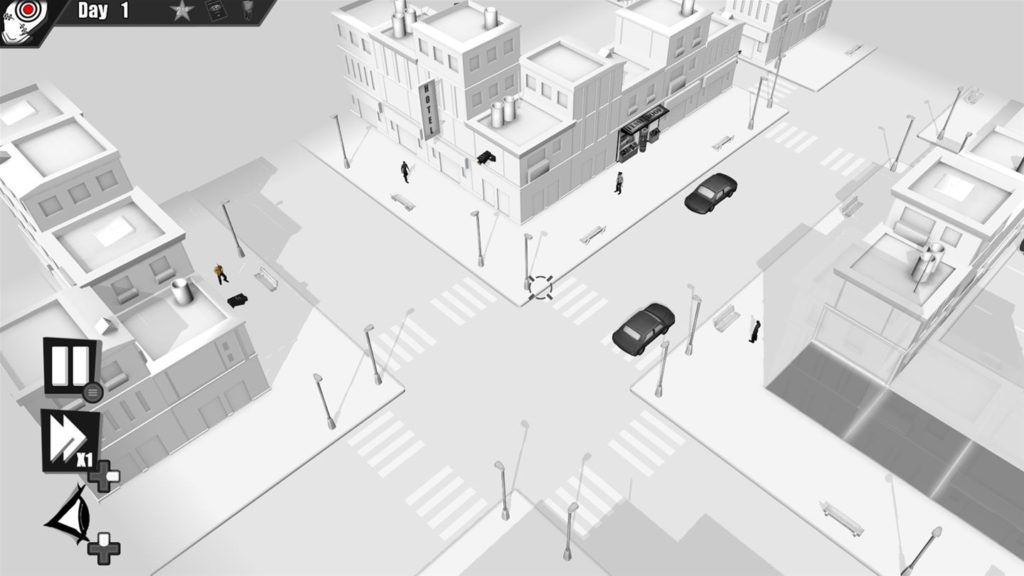 The controls are functional, but unintuitive. You have the option to move some items, sabotage others, and combine a small selection of pieces found in the environment to create traps. How these interactions happen is often not how one would expect; it took me three or four attempts to set up the aforementioned Piano catapult. I also took multiple attempts to drop a box off of a roof on to my victim because the way it fell was slow, cumbersome and not at all how you would expect the physics engine to affect the time. This adds an element of trial and error to the way traps and items work, beyond that of the trial and error involved in figuring out solutions to the game's puzzles, which is incredibly frustrating. Each levels solution is usually simple and easy to figure out, either at first glance or an application of trial and error. Sometimes the solution is clear, but you are held back by having to figure out how the bloody items work.
Over time the level of complexity within the puzzles is ramped up, with innocent bystanders needing to both survive, and not see the kill. Similarly, security cameras cannot be allowed to spot the act, forcing you to move objects around the map to disrupt the habitual route of the bad guy, funnelling him down an ally to meet a flaming oil slick or box dropped from above. However, despite the game attempting to give us a toolbox of physics enabled objects to dispatch out foes as we see fit, the majority of levels feel very restrictive with only one possible solution. This isn't necessarily a bad thing if you are looking for a puzzle game in the truest sense of the word, but I felt that with a bit more freedom the game could have been a lot more memorable and interesting.
Visually, the game has a simplistic monochrome aesthetic in which background items and details are varying shades of white, whilst interactive items and game characters are darker greys and blacks. This is an extremely effective way of pushing the puzzles to the foreground of focus, and a great application of minimalist visual design. If items and their interactions were as simple to understand as the game's visual language, the puzzles would be a lot more fun. This simplistic colour scheme makes the successful puzzle solving all the more satisfying; eviscerating a criminal with a flying saw blade or crushing them with a stray wrecking ball will cover the area in splatters of red blood, sending the target into a rag doll – giving each success a very real and visceral sense of feedback.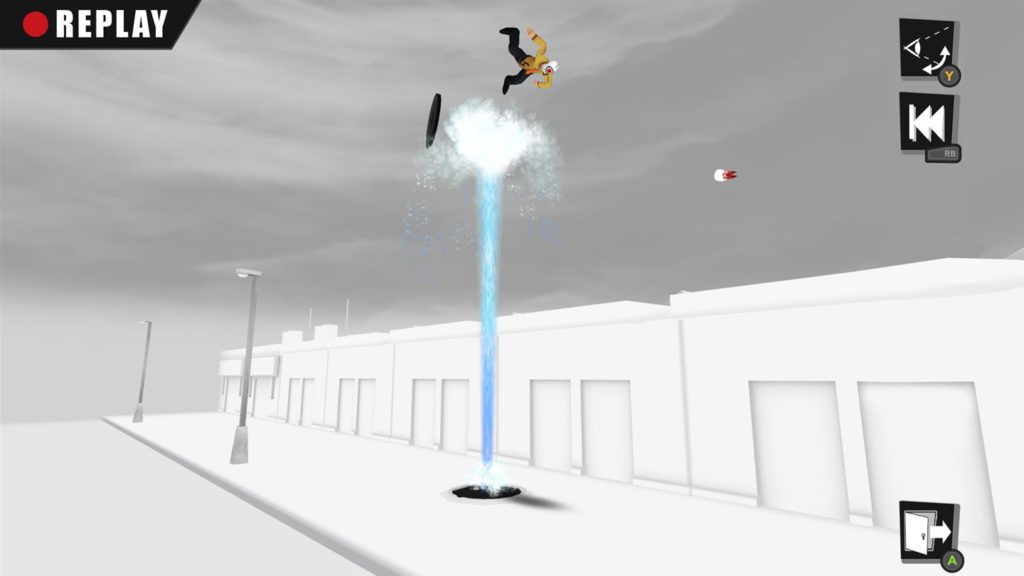 Vigilante justice is a multi-facetted and complex subject, but don't expect any nuanced discussion here. Instead, Kill the Bad Guy takes the subject of revenge and vigilantism and uses it as a simplified backing plot to facilitate a quaint puzzle game. Their previous crimes are played for laughs in a dry and at times quite dark tone. The titular 'bad guys' you are tasked with dispatching often allude to real world counter parts, from your ex-athlete 'Oscar' murdering family members, through to parodies of Pol Pot and Hitler. I never found any of the written descriptions particularly funny. The game's writing feels like it's trying to satirise something; a failing judicial system, the inherently violent nature of the human condition – but it never commits or really feels like it is saying anything. Ultimately, the humour falls flat.
There are 60 levels total not including a handful of bonus ones (oh joy, zombies), but aside from frustrations around timing the falling of a tree or how three items work together, I never found myself spending much time on a level. The majority of levels felt extremely similar, in part due to the art style creating an uninteresting and homogenous collection of white urban spaces. The game will bring a few hours of enjoyment, but the shallow attempts at adding replayability to the title by adding collectible 'passports' to be found in each level won't bring you back for more unless you are a true completionist.
Kill the Bad Guy plays like a tablet or phone title that had been given a shot at the bigger leagues. Having been released on Steam over two years ago it is quite surprising to see the Xbox release missing the free multiplayer update added to the PC version last year. The game is enjoyable enough, but nothing to warrant a strong recommendation. If you are a big fan of puzzle titles then you could do a lot worse than this £5.59 puzzler with a uniquely violent twist.
Overall score: 5