Posted
February 22, 2017
in Reviews
Summary rating from user's marks. You can set own marks for this article - just click on stars above and press "Accept".
Accept
Squake Review – PC
Going down the route of 'retro' for inspiration guarantees borrowed interest when embarking on a creative endeavour. Borrowed associations, nostalgia and excitement from influential or well-remembered titles can help really put a project on the map. It was only a matter of time till someone took a shot at rejuvenating everyone favourite mobile time-sink, Snake. Originally popularised in 1998 when included on a Nokia mobile phone, Snake is being brought into the modern gaming landscape with an injection of competitive multiplayer sensibilities and contemporary design concepts. Evoking a combination of the infamous Snake style gameplay and the competitive nature of one of gaming's premium FPS series, developers On-5 settled on the portmanteau of Squake to describe their first foray into PC gaming.
Squake is a simple premise; manoeuvre your Train engine around from a top down perspective, picking up blobs of coloured… stuff (no, seriously, it's just… stuff; random assortments of coloured dots and icons with a loose relation to the elements) which add carts to your train. Keep adding to your train, creating a longer and longer trail which you can use to block the path of other players and kill them. The core gameplay is spiced up with an assortment of power-ups – speed boosts, magnets to attract the pickups, drills to burst through the trail of other players and so on.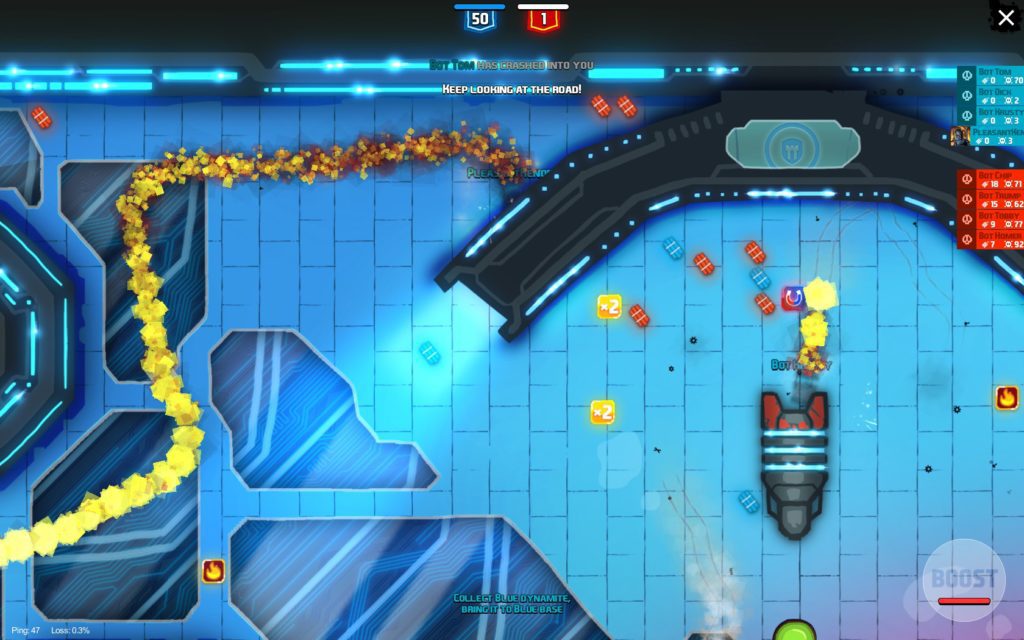 Each map gives a unique gameplay objective, ranging from having the longest trail to collecting the most dynamite as a team or traditional capture the flag. Every level appears to serve as a server, showing the number of active players within, whilst empty slots are filled by incompetent bots. The game has a heavy focus on its 'always-on multiplayer', which means the title will live or die by the number of active players it can retain. The game launched in early February, at which point the development team gave out sixteen thousand codes in order to promote a healthy player base and active servers. After all, Psyonix hit it big with giving away Rocket League for free on the PSN initially to raise hype levels. However, the fact that there were fewer than 11 people online at time of writing might give a clear and discernible indication to the longevity of the Squake experience. Boys and girls, this is no Rocket League.
In order to emulate the successes of competitive indie games like Rocket League, you need to be both simplistic and accessible, with an obvious depth to allow people to master your mechanics. At its very core, Squake is painfully simple – the point of being shallow. There really isn't anything to the game aside from moving around and collecting bits, with the occasional strategic movements to cause an opponent to crash. Beyond this, even the addition of gameplay systems like Capture the Flag will hardly captivate groups of players to engage with the title when there is little strategy to be had. There are some upgrades that are purchasable with in game currency earned from 'quests' that will be familiar to anyone who has played a modern shooter with RPG-lite persistent-upgrades, but they are so basic in Squake that it feels like an after thought.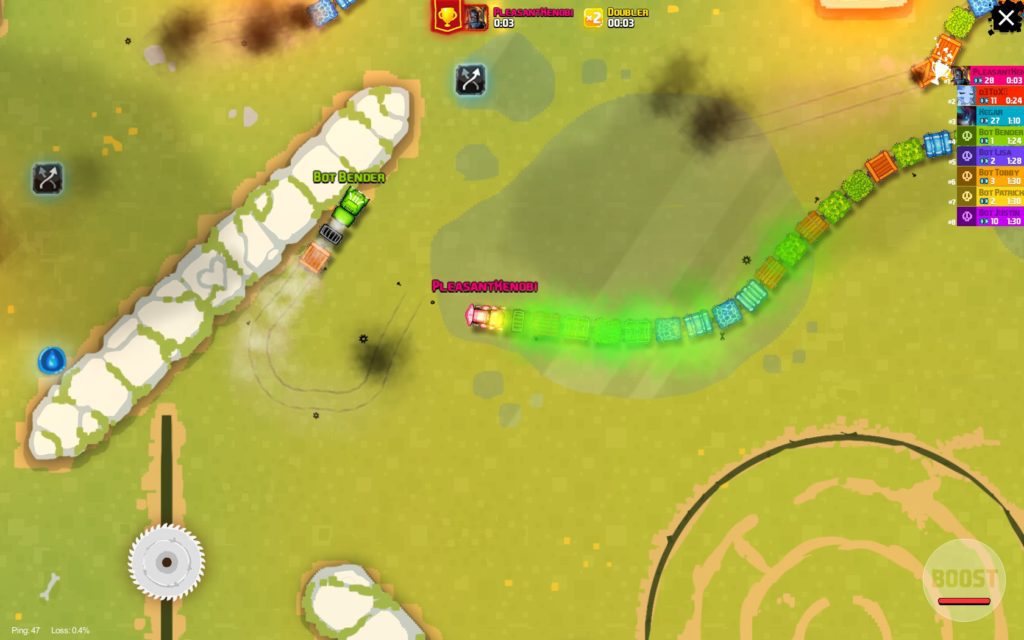 The alternative route to success is to provide pick-up and play enjoyment, or bizarre spectacle. Whilst the game is intuitive and easy to pick-up, there really is little to pull you back for that "just another go" – the game could have benefitted hugely from a scoring system with leader boards or objectives relating to it.
Squake is a confusing mash-up of influences, not only in its attempt to combine the simplicity of a Snake-style gameplay with competitive gaming, but also in its aesthetics and presentation. Visually, there is a pseudo-voxel style blockiness to the menus and particle effects, but everything else from maps, to pickups to the trains themselves all feel extremely non-distinct and forgettable. It makes for an un-remarkable game that provides no cohesive front-end to make the game's simplistic action memorable.
Ultimately, Squake feels like a mobile or mini-game more so than a full PC release. Even at its low price tag of £4.79 on Steam I find it hard to recommend spending precious time on it. It is is a game that functions, so I need to take that into account when issuing it a score, but I really can't recommend Squake for anyone other than the most die-hard fans of Snake-style games. And even then, the cheap throw-away feel of the overall presentation might just be enough to put you off.
Overall 2/10