Summary rating from user's marks. You can set own marks for this article - just click on stars above and press "Accept".
Accept
Wileyfox Spark X Review
What do you expect for £140?
It seems that whenever you buy a piece of technology under a certain price, you are resigning yourself to a budget piece of tech, that will likely not work correctly and be highly inferior to their more expensive counterparts. This is exploited in the world of technology by many companies, who do not apply the same standards of production and warranty to cheaper products than they do expensive ones. Wileyfox's aim is to combat this approach, they are producing smartphones that are built to last, with a 2 year warranty, and will give you value for money. After all, if you spent £140 on anything else, you would expect it to be competent.
The Spark X is currently the 'flagship' phone of the British based company, featuring a 1.3Ghz Quad Core CPU, 2GB of Ram, 16GB of inbuilt storage with an expansion slot that can accept up to 32GB SD Cards, 2 Sim Card slots, a 5.5 inch 720p IPS screen and Dragontrail glass.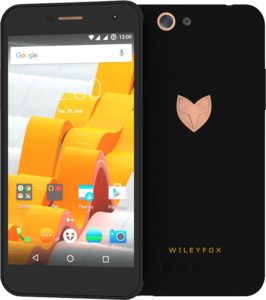 So the specifications are fairly standard for something in this price category. With this sort of hardware, all the basics run completely fine, using basic apps you will never experience slowdown. It can't run some of the higher end games – it just doesn't have the horsepower – but it can run all the standard games on the market just fine, such as Angry birds for example.
If gaming was particularly important to you however, you probably wouldn't be getting a phone like this. It's clearly aimed at a more casual user, that wants everything a modern smartphone can do, without having to pay for features they will never use. The screen is also quite nicely made despite it not being full HD, and appears quite sharp, with the colours and contrast being very good. Despite this, there are moments in which you will wish Wileyfox had just pushed that bit more and got a Full HD screen in there – at 5.5 inches the screen is quite large, and it would have really benefited from the extra pixels.
It has a removable back, so that you can change batteries yourself, which is a nice touch really. Most modern high end smartphones do not have this feature since they are built in such a way that it simply isn't possible to remove the back, whether that is a design choice or a practical one to make it waterproof. Either way, batteries are often the things that break most on phones, and having one that can be easily replaced is a lot easier than having to send it off to a pricey repair centre just to replace a battery. As it's an online only product that isn't tied to any carrier, it has a dual sim card slot – useful for when you are on holiday and want to buy a local sim, or if you are a business owner that wants to have a separate number and a personal one on the same phone.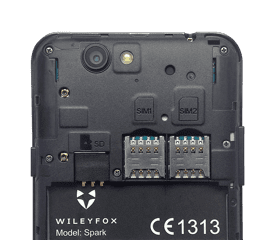 So far, so good. The build quality is nice, and although it is a lot cheaper to many other smartphones, it never feels cheap, even the box it comes in is very nicely presented. It is just nice to hold, with a suede styled back with metal sidings, and a cute logo on the reverse. The main draw for most people, will be the OS the phone uses – Cyanogen. It is essentially Android with added customisability and privacy options, it is more open and mod friendly, and is overall an improvement over the standard Android operating system. Many people will like the custom themes, but more will enjoy being able to fine-tune the security on their phone, in an increasingly privacy aware society.
The camera and battery are both okay, but nothing to shout about either. They will get the job done, but can't be considered rave-worthy by any means. If you are looking for a phone that can take professional quality pictures or last a week without charging, then this isn't the phone for you. The battery is 3000mAh, which is better than average for this price of phone, but also nothing particularly special.
Overall, the Spark X is perhaps the best budget phone currently on the market. It performs extremely well for its price point, and isn't built like other budget phones. Most phones in this price category are built as a downgrade from their more expensive counterparts, but the Spark X is built as if it maximising every penny you spent on it. If you are looking for a new phone, or have a Sim Only contract and don't want to spend over the odds for everyday smartphone use, you cannot go wrong with the Spark X.